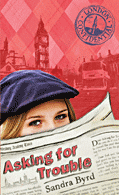 "What should I do, God? I try to be an honest person. You know that. But I'm lonely, and the newspaper is one place I think I can fit in. It's not going to hurt anyone if I just make it sound like I've had a little more experience than I have. I know I can do the work. Then maybe I'll make some friends, have a normal lunch table to sit at. And You know my dream is to be a journalist. Could You just make this teensy little thing happen?"
Asking for Trouble
, pg 17.
15-year-old Savvy Smith just moved from Seattle to a small town near London, England. She has to find a new set of friends and make a name for herself. When she learns there is an opening on the Newspaper staff, she thinks that this is her chance to find a place to fit in. But there's one problem, she doesn't have the experience needed for the job. Caught between her desire for a by line and her desire to please God, Savvy has to make the hardest decision of her young life. Will it be the right one?
I very much enjoyed the first book in the London Confidential series by Sandra Byrd. I liked the way that Sandra developed the character of Savvy. I could identify with the girl, though I'm past those years myself and was never that fashion conscious. I can still remember what it was like to be on the outside looking in. I remember how it felt to be left out, just because I was different. I think that Sandra did a wonderful job addressing these issues and showing how to overcome them, while still living for the Lord.
I would recommend this book to any teenage girl.
(I received a complimentary copy of this book for the purpose of review.)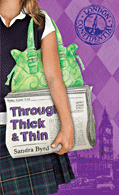 "My assignment was clear. I had to find a way into that photo shoot. And then get Jack to allow me to write a feature article for the Wexburg Academy Times."
Through Thick & Thin
, pg 23.
Savvy Smith wants her own by line, and she might have just found the perfect way to get it. A fashion designer is scheduled to do a shoot at one of the local historic homes, which just happens to be owned by the parents of one of the aristocats at school. With the help of her new friend, Penny, Savvy gets an invitation to the shoot. But problems are on the horizon, and Savvy has to make a tough choice between her family, friends and the fame that she dreams of.
Book 2 of the London Confidential series follows the story of Savvy Smith as she strives to make friends in her new home near London, England. Sandra Byrd did a wonderful job continuing this story. I appreciate that Savvy is perfect. She makes mistakes with real consequences, and I could find myself, even as an adult, learning from her. Well done!
I would recommend this book to any teenage girl, especially one who loves fashion.
(I received a complimentary copy of this book for the purpose of review.)