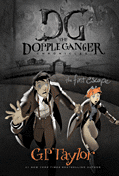 Excerpt:
Known to everyone who worked at Isambard Dunstan's School for Wayward Children as them, they were known to each other as Sadie and Saskia Dopple. Each was the likeness of the other in almost every way. They had identical ears, identical noses, identical lips, and even identical moles upon their chins. The only thing that set them apart was that Sadie had a yellow right eye and a blue left and Saskia a blue right eye and a yellow left. Apart from their eyes, the only difference between them was that Sadie thought before she acted or spoke. She was the quieter of the two - and in many ways the most dangerous. Together, they were like two wild cats that had taken human form, sent by an avenging angel to wreck havoc on humanity.
The First Escape, pg 8-9.
Back Cover:
At Isambard Dunstan's School for Wayward Children, life is trouble for fourteen-year-old identical twins Sadie and Saskia Dopple and their friend, former thief Erik Morrissey Ganger. But what starts out as a perfectly normal day of food fights, rioting classmates, and (yawn) threats of expulsion goes suddenly and horribly wrong when a mysterious, wealthy woman appears at the school and adopts Saskia... without her sister.
On her own in a mansion full of dark secrets, Saskia stumbles upon a conspiracy that threatens her very life. Meanwhile, desperate to find Saskia, Sadie and Erik escape from the orphanage with a gang of enemies in hot pursuit. Faced with perils beyond their imaginations, the trip must decide who to trust - and what to believe - if they are to survive long enough to find each other again.
My Review:
I was curious to read
The First Escape
because the book was for reluctant readers. I wanted to experience the new "illustra novel" approach to reading a book. The book is part plain text, part picture book, and part graphic novel. It was interesting to experience as an adult, and I can plainly see how this type of publication would help a child who doesn't enjoy reading to finish a long story. This book is full of action and adventure, death and doom. I'm sure that it would easily keep the attention of a reluctant reader from start to finish. While this book is published by a Christian publishing company, there isn't too much of a spiritual nature to the book, just a slight hinting of a higher purpose from a mysterious person... perhaps an angel? It makes me wonder if the following books in the series have more of a spiritual bent to them.
My Rating:
My Recommendation:
I recommend this action packed book for young people who don't really like to read, but enjoy a good adventure.
(I received a complimentary copy of this book for the purpose of review.)