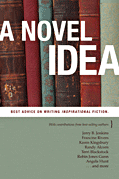 When I first heard about
A Novel Idea,
I added it to my wish list. I wanted to get my hands on a copy and devour the advice that the best-selling Christian authors had to give. I can't tell you how excited I was when I found out that Tyndale was offering this book for review. I signed up. I mean, who wouldn't? They were going to send me the book
(which I already wanted to read)
for free
(a price that fits well in my budget)
, and all I had to do was read it
(which I was planning on doing anyway)
and write a review
(that's what I'm doing now)
.
A Novel Idea
did not disappoint. The book is divided up into four sections: The fundamentals of fiction, Developing your craft, Writing Christian fiction, and Network and marketing. Each chapter and section brought new things to light for me. As I read, I was encouraged to find that I was doing something right, and I was also challenged to do more in some areas. Written by over 50 authors, the book gives insight into Christian fiction in a way that I have never seen. I look forward to reading this book many times.
This book is a must have for any Christian fiction writer!