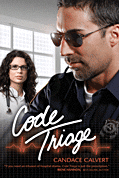 Excerpt:
"I'm going there. That's my job. And this was bound to happen sooner or later. Your work, mine, hers - they all intersect, you know?"
"I know," he said or tried to. His heart had climbed into his throat, and his breath came in short puffs . . . almost the same way as when he'd been trying to save Kristi Johnson's baby. Because despite a sheaf of legal papers, he refused to believe there would be a divorce. That Leigh would really end it. He'd barely had a glimpse of her in the past six months - she'd commuted back and forth from her sister's treatment center in Sausalito, working just enough shifts to stay on staff at the hospital. And now, when there was so little time to change his wife's mind, he finally had a chance to see her beautiful face again. The same morning she'd finally meet Samantha Gordon - the reason she'd given up on their marriage.
Code Triage
, pg 14-15.
Back Cover:
Dr. Leigh Stathos likes her ER shifts fast, furious, and adrenaline-infused - "Treat 'em and street 'em" - with no emotional complications. Life's taught her a soul-rending lesson: nothing lasts forever, including marriage. And the clock is ticking toward the end of hers. Then an unwelcome confrontation with "the other woman" begins a whole new set of lessons.
San Francisco police officer Nick Stathos never gives up, whether protecting his patrol neighborhood, holding fast to faith - or trying to save his marriage. Seven days is all he has to reach Leigh's heart. But when a desperate act of violence slams Golden Gate Mercy Hospital into lockdown, it starts a chain of events that will change lives forever.
My Review:
Code Triage
is an exciting medical drama filled with conflict and circumstances too big for the characters to get through on their own. I was drawn into this story and found myself thinking and dreaming about it, even after I finished the last page.
Code Triage
is the third book in the Mercy Hospital series, but it reads well as a stand alone novel. In fact, it wasn't till the very end that I realized that there must be more books in the series. I'm excited to go back and read the other two!
My Rating:
My Recommendation:
I highly recommend this book to readers who enjoy medical drama.
(I received a complimentary copy of this book for the purpose of review.)