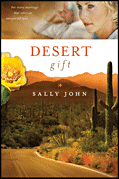 Excerpt:
When Jill was a little girl, her father nicknamed her Jillie Jaws. He asked, What choice did he have? Not only were her initials JAW, she was also, without a question, from birth, a motormouth. When air first hit her lungs, she never even cried. She yammered. Yes sirree, Jillian Autumn Wagner always had something to say.
Until now.
Desert gift, pg 3.
Back Cover:
When you're at the top . . . you've got a long way to fall.
A nationally known marriage expert, Jillian Galloway is at the pinnacle of success. Her syndicated radio show is a hit and her first book is about to release. But just as she's leaving for her West Coast publicity tour, Jill's husband of twenty-four years drops a bombshell: he wants a divorce.
As her world crashes down around her, Jill flees to her parent's home in the California desert, wondering if everything she's built her career on - and everything she's built her life around - is a sham. She thought she'd done everything right. So how did her marriage slowly slip away? And will she ever get it back?
My Review:
The premise of this book intrigued me. I wondered what would happen to a marriage expert whose marriage suddenly fell apart. When I requested to review the book, I had never read anything by Sally John and did not really know what to expect. The story was good, but I found the characters a little hard to believe. Also, the book took me three days to wade through. I found I could put it down in the middle of a chapter without being immediately drawn back to the story. While there is nothing wrong with this book, I found that I personally did not enjoy it as much as I had hoped. It could be that the book is a little outside of my favorite genre, and I couldn't really put myself into the shoes of the characters. Others may hardily disagree with my review, but these are just my thoughts. You may find that this book becomes a favorite for you, even if it did not resonate with me.
My Rating:
My Recommendation:
I recommend this book to lovers of contemporary fiction, especially those who enjoy stories of marriages that are falling apart.
I received a complimentary copy of this book for the purpose of review.