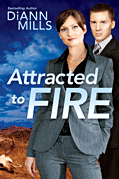 Excerpt:
"I know you've been assigned to Lindsay for the past four years. I know you hate the idea of working with a woman. I know we're both up for the same assignment with VP Hall. But Lindsay is our protectee, and besides her addiction, someone out there wants her dead. We need to work together on this."
Attracted to Fire, pg 59.
Back Cover:
Only one assignment stands between Special Agent Meghan Connors and her dream of protecting the president.
After threats are made against the vice president's rebellious daughter, Meghan is added to her protective detail on a secluded Texas ranch, far from the media and any would-be assassins. Unfortunately, working with Special Agent in Charge Ash Zinders may be as challenging as safeguarding Lindsay Hall. He has a reputation for being critical and exacting, but behind his tough exterior, Meghan finds Ash is equally dedicated to upholding their oath.
When Vice President Hall is sworn in as president, threats on his daughter escalate and security on the ranch is breached. But who is the real target, and who can be trusted? As Ash and Meghan investigate, they uncover a deadly conspiracy that reaches deeper and higher than anyone imagined . . . and only they can put the pieces together before it's too late.
My Review:
Attracted to Fire
has it all - murder, mystery, danger and love. Once I started the novel, I had a hard time putting it down, and still find myself thinking about the plot days later. DiAnn Mills brings to life an exciting and intriguing story of the life of a woman in the Secret Service. This is also the tale of addictions and deception. I loved trying to solve the mystery with Ash and Meghan.
I did have one complaint about the book, which had nothing to do with the story line or characters. The cover of Attracted to Fire really bothers me. Meghan doesn't look anything like how she is portrayed in the cover art. I like details, so this was a little bit of a distraction.
This book is a welcome addition to my home library, and I look forward to sharing it with others.
My Rating:
My Recommendation:
I highly recommend this book to readers of romantic suspense.
(I received a complimentary copy of this book for the purpose of review.)