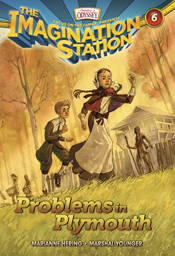 Excerpt:
The chief looked at each of the children and spoke. "I am Aspinet," he said. "Chief of the Nauset tribe."
He fixed his dark eyes on them. "You and your people have caused us much pain."
Patrick gulped and wondered, Is the chief planning to cause us much pain in return?
Problems in Plymouth, pg 32.
Back Cover:
"We'll rescue Squanto, or we'll die trying."
Travel with cousins Patrick and Beth in the Imagination Station to Plymouth Colony, 1621. There they find plenty of problems - a lost Pilgrim boy, stolen corn, and natives on the warpath. But the cousins can't find Hugh, a time-traveling villain causing trouble everywhere he goes.
Has Hugh kidnapped Squanto? Did he start the battle that wounded three Indians? Can Patrick and Beth find and stop Hugh before he changes American history? If they can't the cousins fear the first Thanksgiving feast may turn into the first Pilgrim-Indian war.
My Review:
Patrick and Beth are now on an adventure in early American history. There was always trouble in Plymouth, but now things seem to be getting worse. Is Hugh behind all of the bad things that are happening? I did enjoy this book, but there were parts that didn't quite work in this story line. Mostly, I wondered about Hugh's involvement in the events described. That part seemed a little far-fetched to me, but then again, children love a far-fetched story.
My Rating:
My Recommendation:
I recommend this book for young readers who enjoy adventures in history.
(I received a complimentary copy of this book for the purpose of review.)