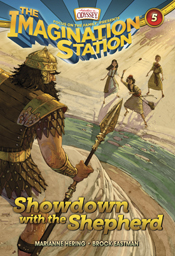 Excerpt:
"My name is David, son of Jesse," the young man said.
Beth and Patrick looked at each other. Thy smiled. This is the famous David from the Bible.
Showdown with the Shepherd, pg 24.
Back Cover:
"If none of you will fight Goliath, then I will!"
Travel to the Holy Land, 1000 BC with Patrick and Beth. Their goal is to find the menacing Master Hugh, get the Whittaker family ring, and then send Hugh back to 1450s England. But problems await the cousins as soon as they step out of the Imagination Station. First they meet an angry bear, later an angry giant.
Set against the background of the David and Goliath story, the cousins must stop Hugh from changing history and helping the Philistines win. Along the way, the cousins learn that having a giant faith is better than having a giant on your side.
My Review:
I'll say it again. I love Adventures in Odyssey!
Showdown with the Shepherd
is the fifth book in the Imagination Station series. I thoroughly enjoyed this book because of the Biblical backdrop. The story of David and Goliath comes to life in these pages, as the cousins try to stop Hugh. I can't wait to read these books to my son, when he is old enough to enjoy them, and then, one day, see him reading the stories for himself. These books are a welcome edition to our library!
My Rating:
My Recommendation:
I recommend this book for young readers who enjoy adventures in history.
(I received a complimentary copy of this book for the purpose of review.)