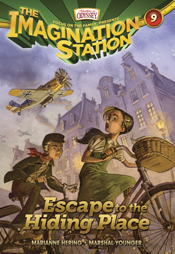 Back Cover:
"God doesn't always protect us from danger. But He's always with us when we face danger. And that's enough."
World War Two has come to Holland . . .
and so have Patrick and Beth.
When the cousins hide at a farm with Dutch Resistance workers, they are given a secret mission: smuggling a Jewish baby to her mother. A broadcast from a hidden radio tells them that it's not safe to leave the farm. But the Resistance workers tell them that it's not safe to stay. Time is running out. Patrick and Beth must race to the hiding place to save the baby's future. But the Germans are everywhere: the woods, the roads, the city, and even the sky. Is there really a hiding place? Or will the Germans find that, too?
My Review:
The ninth book in the Imagination Station series starts out with a rush as a plane falls from the sky and Patrick and Beth are thrust into a very dangerous situation. Once again, history comes alive as the cousins try to survive in German occupied Holland. I personally found this book to be very enjoyable and look forward to sharing the story with my nephews, and later my son when he is old enough. This is a great series!
My Rating:
My Recommendation:
I highly recommend this book to young readers.
I received a complimentary copy of this book for the purpose of review.