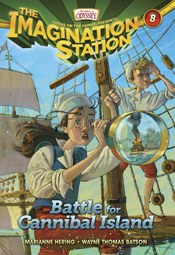 Back Cover:
"I claim this boy as my prisoner," the cannibal king said.
Join Patrick and Beth in the Imagination Station as they travel to Fiji in the 1850s. Patrick hopes it's for a tropical vacation - instead he finds out that cannibals are alive and well on the islands. In truth, the cannibals are burning down every Christian village they can find. When Patrick and a sailor named Nettleton get knocked overboard, the cousins are separated.
Patrick must fend off escaped convicts and a terrible storm - even worse, he finds the cannibal king without even trying! Meanwhile, Beth follows missionary James Calvert as he searches for Patrick. But Calvert's greater mission is to find the king of the cannibals and tell him about the Bible. Is Calvert leading Beth away from danger or straight toward it?
My Review:
The Imagination Station series continues with this thrilling book about cannibals and a famous missionary. I love the way that the story weaves together history in a way that young readers can understand and take part in it. Who wouldn't want to go back in time and have adventures like Patrick and Beth? I know I often wished that Mr. Whittaker lived near me. This book would make a great gift for any young reader that you know. The book is recommended for ages seven and up, and I'm glad that I have it in my library to share with my son when he gets a little older. This is a great addition to the series, and the emphasis on sharing the gospel is wonderful.
My Rating:
My Recommendation:
I highly recommend this book, and the rest of the series, to young readers and their parents.
I received a complimentary copy of this book for the purpose of review.