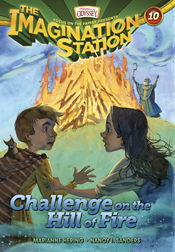 Back Cover:
"You have made us slaves to your darkness and fear too long."
Patrick and Beth climb on board the Imagination Station in hopes of traveling to the land of leprechauns and shamrocks. When they reach fifth-century Ireland, however, there's no rainbow or pot of gold waiting for them. Instead, they must escape from evil druids and find their way to the bishop, who is their only hope of safety But after meeting the bishop, the cousins find that he's a rebel set on defying the druids - even though it could mean his death. Who is this man who isn't afraid to die for his beliefs? Is he indeed safe, or will he lead Patrick and Beth toward the greatest danger they've faced so far?
My Review:
I really love these Imaginations Station books.
Challenge on the Hill of Fire
is the tenth book in the series. The cousins Patrick and Beth are thrust into another daring adventure in history as they learn about standing up for your faith even against certain death. I'll admit that when I first saw the cover of this book, I thought the kids were going back in Bible times to Elijah's challenge against the prophets of Baal. It took me only a few pages to realize I was wrong. Instead the book took me to Ireland in days gone by where real evil kept the people captive in superstition and fear. I think that these books give young readers and exciting glimpse into the past and provide a way for them to see how important it is to stand for what they believe. I look forward to the day when my son will be old enough to read these books.
My Rating:
My Recommendation:
I recommend this book to young readers ages 7 and up.
I received a complimentary copy of this book for the purpose of review.