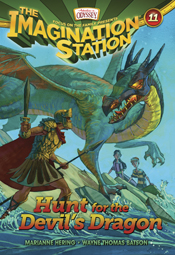 About the Book:
If you're brave, follow cousins Beth and Patrick to Libya in the 13th century. The town of Silene is being terrorized by a vicious animal that is eating livestock. The townspeople believe it's a dragon sent by the devil. In order to appease the beast, the people believe they must offer a human sacrifice—a young girl named Sabra. When Beth tries to help Sabra escape, she too is tied up as an offering for the dragon. Meanwhile, Patrick and a new friend named Hazi join Georgius, a Roman knight who is serving in Africa to keep peace. Georgius decides to find the dragon and kill it. Georgius's plans go awry when Beth and Sabra beg him not to kill the dragon. The girls know the true secret of Silene—the dragon isn't its worst enemy.
My Review:
I have really enjoyed The Imagination Station series thus far. Hunt for the Devil's Dragon is the eleventh book in the set, and in it Beth and Patrick meet up with two creatures they have only ever read about in books. This book's historical context is perplexing to me. The back cover says that the story is set in the 13th century but the narrative is an adaptation of St. George the dragon slayer which took place a thousand years earlier. I tend to believe that the back cover blurb is incorrect. One thing that I have enjoyed about this series is the varied historical times that the cousins travel to. While this book may be one of the most exciting books in the series, I am left wondering how accurate it is. Were there really fire breathing dragons in that day? This story makes for a very exciting read, and I'm sure that young readers will love this adventure with Beth and Patrick.
My Rating:
My Recommendation:
I recommend this book to young readers of faith-based fiction and fans of Adventures in Odyssey.
I received a complimentary copy of this book for the purpose of review.