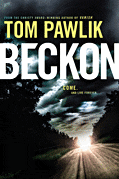 Excerpt:
"If you go . . . death will find you there."
Beckon, pg 23.
Back Cover:
Some things weren't meant to be discovered.
But once they're unleashed, there's no turning back.
Beneath the town of Beckon, a terror hides, lurking in the darkness. Waiting.
Three people are drawn to the small Wyoming town for very different reasons. Anthropologist Jack Kendrick comes looking for clues to his father's disappearance. Police officer Elina Gutierrez arrives in the near-deserted town on the trail of her missing cousin. And George Wilcox is lured by the promise of a cure for his wife's illness.
All are looking for answers. But as they draw closer to discovering the town's chilling secret, the real question becomes . . . will their quest uncover a miracle, or release an unspeakable evil?
My Review:
This is a chilling, edge of your seat, don't read in the middle of the night type of book. The story is well done, the pieces come together to make a captivating whole. However, the images and events are not for the faint of heart. Pawlik has no qualms about killing of people in an extremely gruesome way. While I enjoyed this story greatly, the book will not be remaining in my personal library just because I won't be wanting my son to have those images in his head. This book will get you thinking, and if you can get past the gore, it is an amazing work of fiction.
My Rating:
My Recommendation:
I recommend this book to readers of suspense, who are not afraid of death and gore.
I received a complimentary copy of this book from Tyndale for the purpose of review.